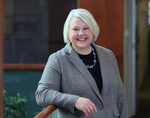 Title
Kellye Yvonne Testy
Description
Indiana native Kellye Yvonne Testy was born and raised in Monroe County, just a few miles from Indiana University. Testy graduated from Edgewood High School (1978) in Ellettsville, Indiana. She then enrolled at Indiana University and received her B.A. in journalism in 1982. After college, Testy ventured to the west coast where she worked in the Sacramento, California, business community, while also becoming active in local and regional political campaigns. In 1988, she returned to Bloomington and enrolled at the Indiana University School of Law. While in law school, Testy won multiple awards for academic achievement, including being first in her class, and was Editor-in-Chief of the Indiana Law Journal (v. 66.) Testy received her J.D., Summa Cum Laude and Order of the Coif, in 1991.
After graduation, Testy clerked for Judge Jesse E. Eschbach, U.S. Court of Appeals for the Seventh Circuit. When the clerkship ended in 1992, she began an academic career, joining the faculty of Seattle University Law School. In 2005, she became the first female Dean of the school, before moving to the University of Washington in 2009, where she became the first woman to serve as Dean of that law school. In 2017, Testy stepped down as Dean and accepted a position as the President and CEO of the Law School Admission Council.
A prolific scholar, outstanding teacher, and experience administrator, Testy is one of the most influential leaders in legal education in America. Additionally, she served as the President of the American Association of Law School in 2016. In 2022, the ABA Journal named Testy one of their 2022 Legal Rebels.
Keywords
Maurer Alumni, Seattle University School of Law, University of Washington School of Law, LSAC, Law School Admission Council
Disciplines
Law | Legal Biography | Legal Education | Legal Profession
Recommended Citation
"Kellye Yvonne Testy" (1960). Maurer Notable Alumni. 100.
https://www.repository.law.indiana.edu/notablealumni/100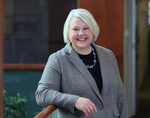 COinS