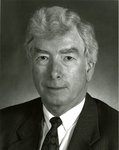 Title
Jost Wilhelm Ernst Delbrück
Description
Jost W. E. Delbrück was born in the town of Pyrzyce, in northwest Poland, on November 3rd, 1935. After WW II, he received his secondary education in Germany, before studying law and political science at Kiel University. He came to America in 1959 to study at both the Indiana University School of Law and the I.U. Department of Political Science. This culminated in his receiving his Masters of Law in 1960. He then returned to Germany and completed his examinations in law. In 1963, he returned to I.U. as a research fellow in the methodology of law, political theory, and sociology.
Over the next 50 years, Delbrück became a renowned scholar, author and teacher of international law and German constitutional law. He was awarded his doctorate from Kiel University in 1964 and continued his post-doctoral studies at the The Hague Academy of International Law. In 1972, he became a professor of Law at the Georg-Ausust University at Göttingen and Director of its Institute of Political Science and Theory of the State. He served as the Dean of the Faculty of Laws at the University of Kiel from 1979 to 1981, as well as serving as President and Rector of the University from 1985 to 1989.
In addition to his academic career, Delbrück served as a Judge, on the Administrative Court of Appeal Schleswig-Holstein and was a member of the Permanent Court of Arbitration in The Hague. From 1997 until 2001, he served as President of the German Association of International Law. He also served as a delegate of the Federal Republic of Germany to the UN Human Rights Committee and is a member of the funding commission of the German Society for Peace and Conflict Research.
In 1991, he was appointed to the faculty of the Indiana University School of Law, teaching courses in international and European Community law and serving as a Resident Fellow of the Indiana University Institute for Advanced Study. Delbrück received an honorary doctorate from the Faculty of Humanities, Social Science, and Education of the Ott von Guericke University in 2006 and was inducted into the Indiana University School of Law Academy of Law Alumni Fellows in 1992.
Jost Delbrück died in Kiel, Germany, in November 2020.
Keywords
Maurer Alumni, University of Kiel, Academy of Law Alumni Fellows
Disciplines
Constitutional Law | International Law | Judges | Law | Legal Biography | Legal Education | Legal Profession
Recommended Citation
"Jost Wilhelm Ernst Delbrück" (1935). Maurer Notable Alumni. 104.
https://www.repository.law.indiana.edu/notablealumni/104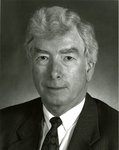 COinS