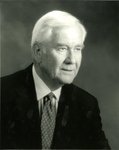 Title
Hugo Charles Songer
Description
Hugo Charles "Chad" Songer was born in the tiny town of Duff, Dubois County, Indiana, on April 11, 1930. Duff, and the people who lived in the surrounding communities, shaped Songer into the man he became and he has remained grateful his entire life. After graduating from Huntingburg High School in 1948 Songer took a job with a company that manufactured venetian blinds and repaired high school scoreboards. In 1951, he enlisted in the Army, serving overseas during the Korean War until his discharge in 1954. Songer then enrolled at Indiana University, before matriculating at the Indiana University School of Law in 1957 and receiving his LL.B. in June of 1960.
After graduating from law school, Songer was a law associate in Evansville, Indiana, before spending seven years as the U.S. Commissioner for the Federal Court of Evansville. He practiced law in Jasper, Indiana, and then became Judge for the Dubois County Circuit Court. In 1969, Songer was a member of the commission that wrote the Crime Report of the City of Evansville – the report received the James Bethell Freedom Award and became a model for cities nationwide. Songer served on the State Board of Law Examiners for more than 20 years, was President of the Evansville Bar Association (1970-71), was a member of the Law School's Board of Visitors (1979-1982) and was President of the I.U. Law Alumni Association in 1983-84. Upon his retirement from the bench, in 1996, the Governor of Indiana presented him with the Sagamore of the Wabash award.
Songer has always had a passion for the past, especially as it relates to Southern Indiana. He is the author of a history of his hometown, Duff: A Continuum and a memoir, Dufftown: Rural Life in Southern Indiana during the Great Depression and World War II. In addition, he has written The History of Huntingburg, and most recently a historical novel, The Buffalo Trace to Tippecanoe: Purty Old Tom Montgomery and the Settlement of Southern Indiana.
Hugo Charles Songer was inducted into the Indiana University School of Law Academy of Law Alumni Fellows in 1997.
Keywords
Maurer Alumni, Academy of Law Alumni Fellows, Indiana Judges
Disciplines
Judges | Law | Legal Biography | Legal Profession
Recommended Citation
"Hugo Charles Songer" (1931). Maurer Notable Alumni. 110.
https://www.repository.law.indiana.edu/notablealumni/110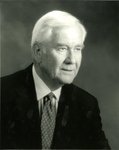 COinS