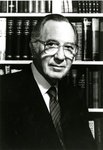 Title
Clarence Benjamin Dutton
Description
Clarence Benjamin Dutton was born in Pittsburgh, Pennsylvania on May 31, 1917. He was raised in Hammond, Indiana, where he graduated from Hammond High School in 1934. He received his B.S., with distinction, from Indiana University in 1938. Prior to receiving his undergraduate degree, he began taking classes at the Indiana University School of Law and ultimately received his LL.B., magna cum laude, in 1940. After graduating from law school Dutton spent a years teaching business law at the I.U. School of Business. He then worked briefly for the E. I. du Pont de Nemours Company (a.k.a. DuPont) in Wilmington, Delaware, before leaving to serve in the U. S. Navy during World War II.
After the war, Dutton returned to Indiana and became a faculty member at the I.U. Law School (1946-1947). In 1947, he entered private practice in Indianapolis, forming the firm of Dutton, Kappes and Overman. The firm flourished and over the years he and his partners earned the confidence of a wide clientele of both individuals and businesses.
Dutton served as President of the Indiana State Bar Association, as a member of the Board of Governors of the American Bar Association, and as Chairman of the ABA Section on General Practice. He was the Director of the American Judicature Society twice, Secretary of the Indiana Civil Code Committee, and was at the center of the re-codification of the Indiana civil code. Dutton was President of both the IU Alumni Association and the School of Law Alumni Association, as well as a long-standing member of the school's Board of Visitors (1972; 1975-1987; 1994-1998). He was awarded an LL.D., the University's highest honor, in 1970. Dutton was inducted into the Indiana University School of Law Academy of Law Alumni Fellows in 1988, and received the University's Distinguished Alumni Service Award in 1995. In addition, Dutton endowed the C. Ben Dutton Chair in Business Law at the Law School in 1989. Clarence Benjamin Dutton died in Naples, Florida, on November 6, 2004.
Keywords
Maurer Alumni, Academy of Law Alumni Fellows
Disciplines
Law | Legal Biography | Legal Profession
Recommended Citation
"Clarence Benjamin Dutton" (1917). Maurer Notable Alumni. 111.
https://www.repository.law.indiana.edu/notablealumni/111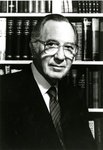 COinS