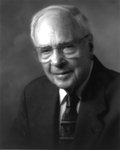 Title
Eugene Dalton Fletchall
Description
Eugene "Gene" Dalton Fletchall was "a classic Hoosier through and through." Born in the small Southern Indiana town of Poseyville on August 19, 1908, Fletchall graduated from Poseyville High School in 1926. Later that fall he enrolled at Indiana University. After three years at IU he ran out of money and left school to sell insurance. Two years later, he returned to finish his B.S. degree (1932) before entering the University's law school. He received his LL.B. degree in 1934.
Not sure what to do after law school, Fletchall took the advice of a fraternity brother's father who was a plant manager with the meatpacking company, Swift & Co. Fletchall joined Swift as a clerk in the refinery department at their Chicago facility in 1934. He would stay with the company for the next 38 years, rising to Executive Vice President by the time he retired in 1972. Swift was, by then, the largest meat-packing firm in the word.
Gene Fletchall was a devoted IU alumnus whose volunteer efforts for the University became legendary. Upon retiring to Bloomington, Fletchall began another career as a full-time volunteer serving the University, the IU Foundation, The Alumni Association, and the Indiana Memorial Union (IMU). Fletchall served as the IMU's Development Officer well into his 90s and when he finally did step down in 2004, the IMU Board of Directors named the Union Board Room in his honor.
Fletchall served as President of the IU Alumni Association in 1963-64 and was awarded the Alumni Association's Distinguished Alumni Service Award in 1967. In 1969, he and his wife, Jane Malcolm Fletchall, established the Eugene D. Fletchall Fellowship at the law school. In 1996, Eugene Dalton Fletchall was inducted into the Indiana University School of Law Alumni Fellows. He received the University's Thomas Hart Benton Mural Medallion Award in 1997. Fletchall died in 2006 at the age of 98.
Keywords
Maurer Alumni, Academy of Law Alumni Fellows
Disciplines
Agribusiness | Law | Legal Biography | Legal Profession
Files
Download Memorial & Obituary, Whittenberg Society Alumni Newsletter, v.24 Summer 2006, p.6-7 (131 KB)
Recommended Citation
"Eugene Dalton Fletchall" (1908). Maurer Notable Alumni. 129.
https://www.repository.law.indiana.edu/notablealumni/129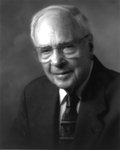 COinS