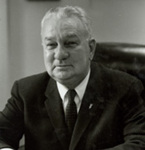 Title
Charles Abraham Halleck
Description
Charles Abraham Halleck was born in Demotte, Jasper County, Indiana on August 22, 1900. He attended public schools, and then he served in the U.S. Army during the First World War. After he was discharged, he entered Indiana University at Bloomington, receiving his A.B. in 1922 and his law degree in 1924. Upon graduation he was admitted to the bar and returned to Jasper County to practice law.
In 1935, following the death of Congressman-elect Frederick Landis, Halleck was elected to the U.S. House of Representatives in a special election. He was reelected 16 times, serving in the House of Representatives for 34 years until January 3, 1969. During that time he rose in seniority and eventually served in the Republican Party leadership. He was House Majority Leader from January 1947 to January 1949, and from January 1953 to January 1955. He was House Minority Leader from January 1959 to January 1965. Following heavy Republican losses in the 1964 election, Halleck lost his reelection to the House Minority leadership, defeated by then-Representative Gerald Ford of Michigan.
Halleck held strong conservative views and his loyalty to the Republican Party was renowned. He described himself as "100 percent Republican" and he was known for his ability to win a floor fight in the House. He was committed to civil rights and he worked hard to obtain Republican votes in the House of Representatives for the landmark Civil Rights Act of 1964. Also during the 1960's, he appeared in a regularly scheduled news conference with Senator Everett Dirksen of Illinois that became known as "the Ev and Charlie Show." He was considered as a running mate of Thomas Dewey in 1948, and Dwight Eisenhower in 1952, but was passed over both times.
In 1968, Halleck made the decision to not stand for reelection and retire from the House of Representatives. House Minority Leader Gerald Ford said "Charlie has had his hours of greatness, glory and triumph. Charlie has had his hours of disappointment. In both he has always been a gentleman."
Upon leaving the House, he returned to Rensselaer, Jasper County, Indiana. Charles Halleck died of pneumonia on March 3, 1986 in Lafayette, Indiana. He was interred at Weston Cemetery in Rensselaer, Indiana, next to his wife who had preceded him in death in 1973.
In 1965, Indiana University awarded Charles Halleck an honorary Doctor of Laws degree. In 1983 the Federal District Court building in Lafayette, Indiana was renamed the Charles A. Halleck Federal Building. In 2010, Charles Halleck was inducted into the Law School's Academy of Law Alumni Fellows.
Keywords
U.S. House of Representatives, Indiana Politicians, Indiana Congressional Representatives, Maurer Alumni, Academy of Law Alumni Fellows
Disciplines
American Politics | Law | Legal Profession
Recommended Citation
"Charles Abraham Halleck" (1900). Maurer Notable Alumni. 13.
https://www.repository.law.indiana.edu/notablealumni/13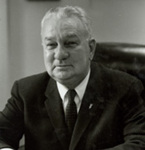 COinS