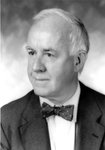 Title
Bernard Eugene Harrold
Description
Bernard Eugene Harrold was born in the tiny northern Indiana town of Poneto on February 5, 1925. Harrold attended grade 1-12 in the small Chester Center School in Poneto, graduating in 1943. He was then drafted into the US Army, serving during WWII in Europe. Harrold's unit, known as the "Rail-splitters," was part of the last allied push across Germany, meeting the Russians at the Elbe River. At the war's completion, Harrold returned to Indiana and enrolled at Indiana University where he earned his B.A. in 1948. Having always wanted to be a lawyer, he then enrolled at the Indiana University School of Law. While in law school, he served as a Note Editor of the Indiana Law Journal (v.26), before receiving his LL.B. degree in 1951, Order of the Coif.
Harrold's legal career began in practice as an associate, and later partner, with the Chicago firm Kirkland, Fleming, Green, Martin, and Ellis. Initially Harrold specialized in antitrust law, but he soon discovered he had the desire and talent to be a trial lawyer. In 1967 he joined five other likeminded attorneys and established a new firm – "a place where we could enjoy the practice of law." Twenty years later the firm of Wildman, Harrold, Allen and Dixon would employ 160 attorneys with branches across the country and in London. Harrold practiced in the areas of antitrust, environmental law, trade secrets, and insurer-reinsurer relations.
Harrold served on local, state, and American Bar Association committees and was a member of the International Bar Association, the American College of Trial Lawyers, and the Society of Trial Lawyers. Over the years, he mentored dozens of young lawyers, many of them graduates of the IU Law School. Bernard Eugene Harrold was inducted into the Indiana University School of Law Academy of Law Alumni Fellows in 1988. Harrold died at his home in Winnetka, Illinois, at the age of 87 in 2012.
Keywords
Maurer Alumni, Academy of Law Alumni Fellows
Disciplines
Antitrust and Trade Regulation | Law | Legal Biography | Legal Profession | Litigation
Recommended Citation
"Bernard Eugene Harrold" (1925). Maurer Notable Alumni. 137.
https://www.repository.law.indiana.edu/notablealumni/137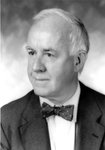 COinS