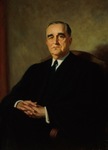 Description
Sherman Minton was born in Georgetown, Indiana, on October 20, 1890. Minton's childhood was dominated by his parents' attempt to improve the family economic condition. In an effort to help the family out, fifteen year-old Sherman moved to Fort Worth, Texas, to live with his older brother and work in the Swift meatpacking plant for twelve and-a-half cents an hour. Ultimately the rest of the family joined the brothers in Fort Worth, but after a year and-a-half, Sherman moved back to Indiana to live with relatives and continue his education. Minton attended New Albany High School, where he excelled not only in academics and public speaking, but in sports – playing football, baseball, and track. He returned to the Swift plant each summer to help the family, before graduating in 1910.
Minton attended Indiana University from 1911-1915, completing his undergraduate classes in 1913 and graduating from the law school in 1915. As an undergraduate, Minton was a fraternity brother with future Indiana Governor, Paul V. McNutt, while in law school he was a classmate with future Republican Presidential candidate, Wendell L. Willkie (class of 1916.) After law school Minton attended Yale, where he received a L.L.M degree in 1917. Minton served in the U.S. Army during World War I and then set up practice in New Albany. Minton was elected to the U.S. Senate in 1934, before being appointed to the United States Court of Appeals for the Seventh Circuit by Franklin Roosevelt in 1940. Nine years later, Harry Truman nominated him to the U.S. Supreme Court. Despite not testifying before the Senate (Minton felt his record on the bench spoke for itself) he was confirmed to the nation's highest court with a Senate vote of 48-16.
Justice Minton was noted for his broad view of government powers and for his abhorrence of racial segregation, which he voted to strike down in Brown v. Board of Education. He retired from the Court in 1956 on account of health problems, including the effects of pernicious anemia; he died in 1965. Upon retirement, the humble Justice Minton observed: "There will be more interest in who will succeed me than in my passing. I'm an echo."
Minton was inducted into the Indiana University School of Law Alumni Fellows in 1985. Minton is the namesake to the school's annual Moot Court competition.
Keywords
Supreme Court Justices, Federal Judges, Indiana Senators, Indiana Politicians, Maurer Alumni, Academy of Law Alumni Fellows
Disciplines
Courts | Judges | Law | Legal Biography | Legal Profession
Recommended Citation
"Sherman A. Minton" (1890). Maurer Notable Alumni. 14.
https://www.repository.law.indiana.edu/notablealumni/14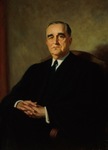 COinS