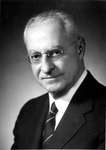 Description
Hubert Hickman was born in Spencer, Indiana, on April 19, 1892. Upon graduating from Spencer High School (1909), he enrolled at Indiana University. He graduated from the law school with a LL.B. degree in 1913. He returned to Spencer after law school and joined his father's law firm, Hickam & Hickam. Hubert's brother Willis (LL.B. 1918) also later joined the family firm. Hubert Hickam served as Owen County prosecuting attorney from 1913 to 1914. In 1915, he was elected to the Indiana state legislature. He served as a first lieutenant in the Quartermaster Corps during WWI, before moving to Indianapolis, in 1919, where he would practice law for the rest of his life.
Hickam was a member of the firm Noel, Hickam and Boyd from 1923 to 1926 and the firm Noel, Hickam, Boyd and Armstrong from 1926 to 1940. In 1940, he became a founding partner in the firm Barnes, Hickam, Pantzer and Boyd (Barnes & Thornburg). Hickam served as President of the Indianapolis Bar Association (1936) and was a fellow of the American College of Trial Lawyers. He was a member of the American Law Institute, the Bar Association of the Seventh Federal Circuit, the National Association of Railroad Trial Lawyers, as well as the American, Indiana, and Indianapolis Bar Associations. Hickam was the author of two well-received legal treatises, used in law schools across the country, A Civil Action: From Pleadings to Opening of Trial (1953) and Preparation for Trial (1963).
Hickam additionally served as Director of both the Owen County State Bank and the Owen County Savings and Loan Association. He served on the Indiana University Board of Trustees from 1953 to 1965 and was President of the Board from 1959 to 1963. Hubert Hickam was the recipient of the Indiana University Distinguished Alumni Award in 1967 and was inducted into the Indiana University School of Law Academy of Law Alumni Fellows in 1987.
Upon his death in 1978, his colleague Alan W. Boyd noted, "As a lawyer, he never deviated from the highest ethical standards of his profession. As a man, he was a warm human being, interested in many things outside his profession."
Keywords
Maurer Alumni, Academy of Law Alumni Fellows
Disciplines
Law | Legal Biography | Legal Profession
Files
Recommended Citation
"Hubert Hickam" (1892). Maurer Notable Alumni. 152.
https://www.repository.law.indiana.edu/notablealumni/152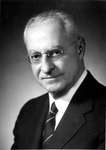 COinS