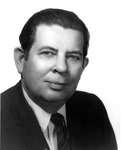 Title
Earl Wilson Kintner
Description
Earl Wilson Kintner was born in the historic town of Corydon, Indiana, on November 6, 1912. He grew up in Princeton, Indiana, where he worked in the farm fields as a boy to help support his family. He graduated from Princeton High School in 1932, and then worked his way through DePauw University as a short-order cook and dishwasher. He received his A.B. degree from DePauw in 1936. Kinter then enrolled at the Indiana University School of Law where he received his law degree in 1938.
Kintner spent the next six years in Princeton as City Attorney and then as Prosecuting Attorney, before entering the Navy in 1944. At the war's end, Kintner served as Deputy United States Commissioner for the United States War Crimes Commission, Co-chairman of the committee reviewing allied war crime matters, and Chairman of the Legal Publications Committee. In 1948, Kintner joined the Federal Trade Commission (FTC) in Washington, D.C., as a trial attorney on antimonopoly matters. In 1951, he became a legal advisor to the FTC and served as General Counsel for the Commission from 1953 to 1959. In 1959, President Dwight Eisenhower appointed Kintner to the position of Chairman of the Federal Trade Commission. Under his leadership, the agency issued a record number of complaints and orders aimed at false advertising and other deceptive trade practices. He served as Chairman until 1961, at which time he became a senior partner in the Washington firm of Arnet, Fox, Kintner, Plotkin and Kahn. Kintner established and directed the firm's antitrust practice. He retired in 1990.
Earl Kintner was the author of numerous books on antitrust and trade regulations including the multivolume classic, Federal Antitrust Law. Kintner was an original member of the law school's Board of Visitors in 1964, and served on the Board from 1974 to 1986. He was President of the Board in 1983/84. He was awarded the Indiana University Distinguished Alumni Award in 1960 and was inducted into the inagural class of the Indiana University Academy of Law Alumni Fellows in 1985.
Earl Wilson Kintner died in 1992, at the age of 72, in Washington, D.C.
Keywords
Maurer Alumni, Academy of Law Alumni Fellows, Federal Trade Commission
Disciplines
Antitrust and Trade Regulation | Law | Legal Biography | Legal Profession
Files
Recommended Citation
"Earl Wilson Kintner" (1912). Maurer Notable Alumni. 169.
https://www.repository.law.indiana.edu/notablealumni/169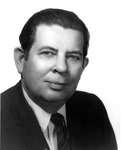 COinS