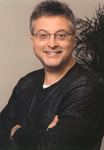 Title
Michael Elliot Uslan
Description
When Michael Uslan was a boy, his dream was to write Batman comics. The Bayonne, New Jersey, native amassed an incredible collection of comic books, a passion that spawned an extraordinary career in film and entertainment.
Uslan's journey to producing Batman films is aptly characterized as super heroic. At Indiana University, he earned three degrees (B.A.1973; M.S.1975; J.D. 1976) and taught the first accredited college course on comic books. The course drew international media attention and led DC Comics to invite Uslan to write his dream comic, Batman. His childhood ambition realized, Uslan decided to bring the Caped Crusader to the big screen. Knowing Hollywood's doors would be impenetrable without proper credentials, Uslan undertook the study of law and upon graduation became a production attorney for United Artists, where his film projects included Apocalypse Now and Raging Bull.
Four years later, Uslan acquired the rights to Batman and left United Artists. Every major motion picture studio turned down Uslan, who was intent on portraying a dark, serious Batman faithful to the character in the original comics. Nearly a decade later, in 1989, Batman was released by Warner Bros. and became the highest grossing movie of the year.
President of Branded Entertainment, Uslan has produced a long list of acclaimed films and series, including Batman Begins, Batman Returns, Constantine, the Emmy Award-winning Where on Earth Is Carmen Sandiego?, the PBS miniseries Three Sovereigns for Sarah., and the second highest grossing film of all time, The Dark Knight. He is the author of more than 30 books on the history of comics and rock-and-roll, the celebrated children's book Chatterbox: The Bird Who Wore Glasses, and the memoir, The Boy Who Loved Batman.
Uslan was inducted into the Maurer School of Law's Academy of Alumni Fellows in 2006.
Keywords
Batman, Movie Producers, Film Producers, Maurer Alumni, Branded Entertainment LLC, Academy of Law Alumni Fellows
Disciplines
American Popular Culture | Entertainment, Arts, and Sports Law | Film Production | Law | Legal Biography | Legal Profession
Recommended Citation
"Michael Elliot Uslan" (1951). Maurer Notable Alumni. 17.
https://www.repository.law.indiana.edu/notablealumni/17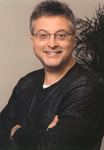 COinS