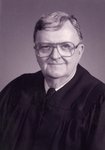 Description
Allen Sharp was born in our nation's capital on February 11, 1932. As a child, Sharp spent time in Oklahoma, Texas, and Southern Indiana. Ultimately, he graduated from Van Buren High School in Brown County, Indiana, and then enrolled at Indiana State Teacher's College (Indiana State University) in Terre Haute. Just as he was to begin his senior year, he accepted a job in the mail room of the U.S. Senate buidling in Washington, D.C. While working in D.C. he completed his undergraduate studies at George Washington University, reciving his A.B. in 1954.
Offered scholarships at the law schools of New York University and Indiana University, Sharp chose IU. He received his JD in 1957. After undergoing six months of Air Force Reserve duty, Sharp took over the practice of a retiring attorney in Williamsport, Indiana, and settled in to the life of a small town attorney and Hoosier farmer. In 1964, he unsuccessfully ran for the State Senate, but he was elected to the Indiana Appellate Court in 1968 and won a ten-year renewal in 1972. In 1973, Sharp was nominated by President Nixon to serve on the U.S. District Court for the Northern District of Indiana. He served on the court until his death and was Chief Judge from 1981 to 1996. While serving on the court, Sharp received his M.A. degree from Butler University (1986).
A history buff, Sharp published chapters in several legal history books and multiple articles in The Supreme Court Historical Society Journal and the Indiana Historical Society's Traces magazine. Sharp died on July 10, 2009, in Granger Indiana, at the age of 77.
Keywords
Maurer Alumni, United States District Court for the Northern District of Indiana, Indiana Judges
Disciplines
Judges | Law | Legal Biography | Legal Profession
Files
Recommended Citation
"Allen Sharp" (1932). Maurer Notable Alumni. 172.
https://www.repository.law.indiana.edu/notablealumni/172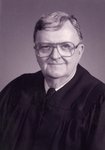 COinS