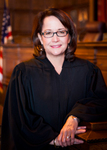 Description
Loretta Hogan Rush was born in Scranton, Pennsylvania. She moved frequently as a child before settling in Indiana in 1972. She earned her undergraduate degree from Purdue University (B.A., 1980) and graduated cum laude from the Indiana University School of Law in Bloomington (J.D., 1983).
After law school Rush spent 15 years in general practice as an associate and then partner at the Lafayette firm of Dickson, Reiling, Teder and Withered. Her practice consisted of civil litigation, family law, business, personal injury, corporate, probate and workers compensation cases. In 1998 she was elected Tippecanoe Superior Court 3 judge, where she assisted with the creation of the county's Court Appointed Special Advocate (CASA) program. She also implemented a certified juvenile drug treatment court and initiated a 24-hour assessment center for youth. During her tenure, she helped initiate, develop and sustain more than 25 youth programs.
Rush was appointed to the Indiana Supreme Court by Governor Mitch Daniels in September 2012. She took the oath of office as Indiana's 108th Supreme Court Justice on November 7, 2012. She became Chief Justice on August 18, 2014, and is the state's first female Chief Justice.
As a Supreme Court Justice, Rush serves on the Commission on Improving the Status of Children in Indiana and the Indiana Conference for Legal Education Opportunity. She serves as liaison to the Division of Supreme Court Administration, the Division of State Court Administration, the Indiana Judicial Center, and the Indiana Judges Association. As Chief Justice, Rush chairs the Judicial Nominating/Qualifications Commission. She has represented Indiana multiple times at the National Judicial Leadership Summit on the Protection of Children.
Chief Justice Rush is a member of the Tippecanoe, Indiana, Indianapolis, Seventh Circuit and American Bar Associations; and Indiana and National Council of Juvenile and Family Court Judges. Chief Justice Rush was selected as one of Indianapolis Business Journal's 2013 "Women of Influence." In 2003, she was honored to receive the Kinsey Award for Juvenile Judge of the Year and was presented with the Fiscal Responsibility Award by the Tippecanoe County Council and Commissioners in 2001.
Chief Justice Rush currently serves on the Law School's Board of Visitors. She was inducted into the Law Schools' Academy of Law Alumni Fellows in 2017.
Keywords
Indiana Supreme Court, Indiana Supreme Court Justices, Indiana Supreme Court Chief Justices, Maurer Alumni, Academy of Law Alumni Fellows
Disciplines
Judges | Law | Legal Biography | Legal Profession
Recommended Citation
"Loretta Hogan Rush" (1958). Maurer Notable Alumni. 19.
https://www.repository.law.indiana.edu/notablealumni/19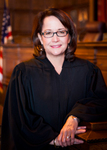 COinS