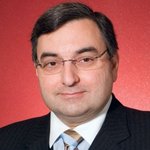 Title
Feisal Amin Rasoul al-Istrabadi
Description
Soon after Feisal Amin Rasoul al-Istrabadi was born in Arlington, Virginia, his family returned to their ancestral home in Iraq. In 1970, the family returned to the United States and settled in Indiana. Istrabadi graduated from Bloomington High School South in 1980, and then enrolled at the University of Rochester (NY) that fall. He returned to Bloomington in 1981 to attend Indiana University, receiving his B.A. in chemistry in 1985. Istrabadi enrolled at the Indiana University School of Law in the fall of 1985 and received his JD in the spring of 1988. Additionally, Istrabadi received his LL.M. (2005) and his S.J.D. (2009) from Northwestern University.
After law school, Istrabadi spent six years in private practice, in Northern Indiana. During his time in prvate practice, he become increasinly involved in Iraqi opposition politics. After 33 years, Istrabadi finally returned to Iraq in 2003, where he would help draft the Transitional Administrative Law. He also served as legal advisor to the Iraqi Minister for Foreign Affairs during the negotiations for U.N. Security Council resolution 1546, which recognized the reassertion by Iraq of its sovereignty. In 2004, Istrabadi was appointed Ambassador Extraordinary and Plenipotentiary, Deputy Permanent Representative of Iraq to the United Nations.
Istrabadi returned to United States and the Indiana University School of Law in 2007, becoming a visiting professor and also teaching at the School of Public and Environmental Affairs. Additionally, Istrabadi serves as an Associate Director of the Center for Constitutional Democracy at the Law School and is the founding director of Indiana University's Center for the Study of the Middle East.
In 2005, Feisal Amin Rasoul al-Istrabadi was a recipient of the Indiana University Foundation President's Award and received the law school's Distinguished Service Award in 2006. In 2015, he was elected as a member of the American Academy of Arts and Sciences.
Keywords
Maurer Alumni, Distinguished Service Award, Ambassador Extraordinary and Plenipotentiary, Deputy Permanent Representative of Iraq to the United Nations, Iraq
Disciplines
International Law | International Relations | Law | Legal Biography | Legal Profession | Near and Middle Eastern Studies
Recommended Citation
"Feisal Amin Rasoul al-Istrabadi" (1962). Maurer Notable Alumni. 192.
https://www.repository.law.indiana.edu/notablealumni/192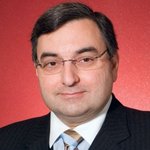 COinS