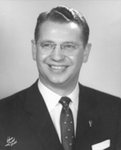 Title
Rupert Vance Hartke
Description
Vance Hartke was born on May 31, 1919 in Stendal, Pike County, Indiana. He attended public schools in Stendal, and then he attended and graduated from Evansville College (now the University of Evansville) in 1940. From 1942 to 1946 he served in the United States Navy and the United States Coast Guard, rising to the rank of lieutenant.
With the conclusion of World War II, Hartke entered the Indiana University School of Law at Bloomington, graduating in 1948. He began his law practice in Evansville. He served as the deputy prosecuting attorney for Vanderburgh County from 1950 to 1951, and then he was elected mayor of Evansville, serving from 1956 to 1958. In 1958 he was elected to the United States Senate, replacing fellow Indiana University Law School alumnus William Jenner who chose to retire.
Hartke served in the United States Senate for 12 years, from 1959 to 1977. He had a liberal voting record, supporting Medicare, Medicaid, and the Civil Rights Act of 1964. He also supported student loan programs, improved veterans benefits, Head Start, increased access to kidney dialysis, and safety enhancements to automobiles, including the installation of seat belts.
Hartke became an early outspoken critic of the Vietnam War, resulting in a fallout with President Lyndon Johnson after having initially established a strong working relationship with Johnson when he was the Senate Majority Leader. His opposition to the war was not popular in Indiana and he was narrowly reelected in 1970. In 1976, he lost his seat to Indianapolis mayor Richard Lugar.
After he left the Senate, Hartke chose to stay in the Washington D.C. area to practice law. He died on July 27, 2003 in Falls Church, Virginia. He was interred at Arlington National Cemetery.
Keywords
United States Senate, Civil Rights, Vietnam War, Indiana Politicians, Indiana Senators, Maurer Alumni
Disciplines
American Politics | Law | Legal Profession
Recommended Citation
"Rupert Vance Hartke" (1919). Maurer Notable Alumni. 21.
https://www.repository.law.indiana.edu/notablealumni/21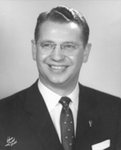 COinS