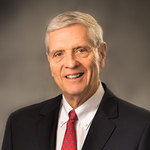 Description
Fred James Logan was born in St. Joseph Missouri. Although born on the east side of the Missouri River, he was raised on the west side, graduating from South Overland Park High School (Overland Park, Kansas) in 1970. Logan enrolled at the University of Kansas in the fall of 1970, but transferred to Indiana University in 1971. Active in student government as an undergraduate, Logan graduated with an A.B. in Political Science in 1974. After receiving his undergraduate degree, Logan enrolled at the George Washington University School of Law in Washington D.C. After spending a year at GW, Logan returned to Indiana, transferring to the Indiana University School of Law. He received his JD from IU, Cum Laude, in 1977.
Logan returned to the Kansas City area after law school and started a law firm with his brother. Today, the brothers are partners in the firm Logan Logan & Watson in Praire Villiage. Fred Logan's practices focuses on the areas of business law, public and not-for-profit law, real estate, probate and estate planning law, and administrative law. Additionally, Logan has actively been involved in Kansas politics, serving as the state chairperson of the Kansas Republican Party from 1987-1989. At the time, he was the youngest state party chair in the country.
Logan's service to the Kansas City community has been substantial. He has served on the boards of the Arts Council of Metropolitan Kansas City, the Johnson County Community College Foundation, and the Greater Kansas City Community Foundation, to name just a few. From 2011 to 2015, he was a member of the Kansas Board of Regents, serving as Chair in 2013-14. Logan has received numerous awards and honors for both his professional service and his volunteer activities. Among those are, Beta Man of the Year from the Greater Kansas City Beta Theta Pi Alumni Association (1997), Johnson Countian of the Year (2008), United Community Services' Citizen of the Year (2011), and the Outstanding Service Award from the Kansas Bar Association (2013). Additionally, Fred J. Logan, Jr., received a 2009 Distinguished Service Award from the Indiana University Maurer School of Law.
Keywords
Maurer Alumni, Distinguished Service Award
Disciplines
Law | Legal Biography | Legal Profession
Recommended Citation
"Fred James Logan" (1952). Maurer Notable Alumni. 222.
https://www.repository.law.indiana.edu/notablealumni/222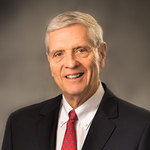 COinS