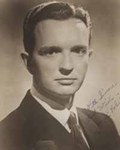 Title
James Ellsworth Noland
Description
James Ellsworth Noland was born in LaGrange, Missouri, in 1920. Raised in a farming family struggling to survive, the family moved around throughout the 1920s, with stops in Roachdale, Indiana (1923), Spencer, Indiana (1926), and finally Bloomington (1934). Nolan's father set up practice as a dentist while his son excelled at Bloomington High School. In 1938 he entered Indiana University and landed a job in the campus bookstore and later managed the men's lounge in the student union. As part of a three year pre-law curriculum, Judge Noland majored in government with a minor in journalism. He began law school in 1941. When World War II broke out, Nolan was accepted into a reserve officers training program offered by the Harvard Graduate Business School. Noland completed the course as part of the last class to receive a full master's degree before entering the service in World War II, while also mastering the requirements to be a quartermaster.
After the war Nolan ran unsuccessfully for Congress in Indiana's 7th district. He then decided to return to Law School from where he graduated in August of 1948. Three months later he was elected to the U.S. House of Representatives as one of its youngest members. Sworn into the Indiana bar on December 7, 1948, he went, as he put it, "from law school direct to the United States Congress." Nolan was defeated at his first re-election attempt in 1950, and opened a private practice in Indianapolis and stayed involved in state politics. During the 1950s and 60s he served in various city/state positions, including Indianapolis Assistant City Attorney, Assistant State Attorney General, and State Election Commissioner.
In 1966 he was appointed to the United States District Court for the Southern District of Indiana by President Lyndon B. Johnson. He was named Chief Judge in 1984 and served in that capacity until 1986 when he took senior status. He died in Indianapolis in 1992 and is interned in that city's Crown Hill Cemetery.
Keywords
Federal Judges, Indiana Judges, Maurer Alumni, United States District Court for the Southern District of Indiana
Disciplines
Judges | Law | Legal Biography | Legal Profession
Recommended Citation
"James Ellsworth Noland" (1920). Maurer Notable Alumni. 23.
https://www.repository.law.indiana.edu/notablealumni/23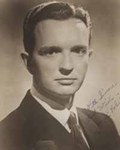 COinS