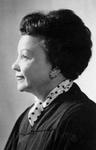 Description
Juanita Kidd Stout was born on March 7, 1919 in Wewoka, Oklahoma. Both her parents were teachers, and they instilled in her a lifelong habit of study and hard work. She quickly advanced in school, starting college at a Lincoln University in Missouri at the age of 16. She transferred to the University of Iowa, and then returned to Oklahoma to be a music teacher. During World War II, she worked in Washington D.C., taking legal dictation at a law firm. She was so good at this she began to study law. When her husband Charles began work on his doctorate at Indiana University in Bloomington, she entered the Indiana University School of Law. She received her J.D. degree in 1948 and her LL.M. degree in 1954. That same year she and her husband moved to Philadelphia, Pennsylvania, and she began her legal career. Within two years, she was appointed to the District Attorney's office, and then in 1959 she received an interim appointment to the Philadelphia Municipal Court. When the position came up for election two months later, she won easily becoming the first black woman in the United States to win an election to a court of record.
Judge Stout was later appointed to the Philadelphia Court of Common Pleas, specializing in homicide cases. In 1988 she received an interim appointment to the Pennsylvania Supreme Court, becoming the first black woman to serve on a state supreme court. Due to the mandatory retirement age of 70, she stepped down from the Pennsylvania Supreme Court in 1989 and she returned to the bench in Philadelphia. She continued to deal firmly but fairly with offenders, giving some a second chance. When the local executive director of the ACLU sent a letter criticizing her to members of the Philadelphia bar (protesting her swift justice), he received so many angry responses he sent a second letter stating "I am sorry that our criticism of Judge Stout has upset you." When she received death threats in the mail, she responded by pointed out the numerous grammatical and spelling errors.
Judge Stout died on August 21, 1998 in Philadelphia, Pennsylvania. She was interred at the Westwood Cemetery in Wewoka, Seminole County, Oklahoma.
Juanita Kidd Stout was inducted into the Oklahoma Women's Hall of Fame in 1983. In 1986 she was inducted into the Indiana University's Academy of Law Alumni Fellows. In 2012, the Philadelphia Criminal Justice Center was renamed the Justice Juanita Kidd Stout Center for Criminal Justice.
Keywords
African-American Lawyers, Judges, State Supreme Court Judges, Women Lawyers, Academy of Law Alumni Fellows
Disciplines
Criminal Law | Judges | Juvenile Law | Law | Legal Profession
Files
Recommended Citation
"Juanita Kidd Stout" (1918). Maurer Notable Alumni. 25.
https://www.repository.law.indiana.edu/notablealumni/25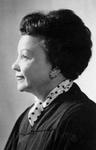 COinS