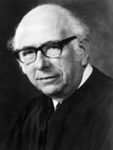 Description
S. Hugh Dillin was born on June 9, 1914 in Petersburg, Pike County, Indiana to Samuel Edgar Dillin and Maude (Harrell) Dillin. His father was an attorney in Petersburg. Dillin attended Indiana University, receiving his A.B. in 1936 and his LL.B. in 1938. While still a law student, he was elected to the Indiana House of Representatives in 1936. He was reelected in 1938 and 1940. He then served as the Secretary of the Indiana Public Services Commission, resigning in 1943 to enlist in the U.S. Army. He was discharged at the rank of Captain in 1946 and he returned to private practice with his father in Petersburg. He was elected again to the Indiana House of Representatives in 1950, and to the Indiana Senate in 1958.
On September 14, 1961, Dillin was nominated by President John F. Kennedy to the U.S. District Court for the Southern District of Indiana. He was swiftly confirmed by the U.S. Senate, and began his judicial career that would span 45 years on the federal bench.
Judge Dillin was best known for his decisions involving the desegregation of the Indianapolis public schools. He also ordered the desegregation of the Evansville public schools and he ordered the plumbers union to open up journeyman and apprentice programs to qualified African-Americans. He also oversaw the negotiations for claims after the 1963 natural gas explosion at the Indiana State Fairgrounds that killed 74 and injured more than 400 people.
Judge Dillin served as the chief judge for the Southern District of Indiana from 1982 to 1983. He assumed senior status in 1993, which continued until his death. Hugh Dillin died in Cambridge, Massachusetts on March 13, 2006. He was interred at the Walnut Hill Cemetery in Petersburg, Indiana, next to his wife Mary who preceded him in death in 1998.
S. Hugh Dillin was inducted into the Law School's Academy of Law Alumni Fellows in 1987. The law school presented him a LL.D. in 1992, while the Indiana University Alumni Association presented him with their Distinguished Alumni Service Award in 1990.
Keywords
Federal Judges, U.S. District Court for the Southern District of Indiana, desegregation, Indiana Politicians, Indiana Senate, Indiana House of Representatives, Maurer Alumni, Academy of Law Alumni Fellows
Disciplines
Civil Rights and Discrimination | Judges | Jurisprudence | Law | Legal Biography | Legal Profession
Recommended Citation
"Samuel Hugh Dillin" (1914). Maurer Notable Alumni. 28.
https://www.repository.law.indiana.edu/notablealumni/28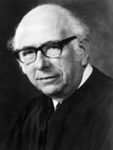 COinS