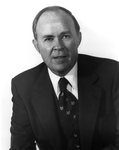 Title
Elwood Haynes Hillis
Description
Elwood "Bud" Hillis was born on March 6, 1926 in Kokomo, Howard County, Indiana. His father was Glen Hillis, an attorney and the 1940 Republican candidate for Governor of Indiana. His mother Bernice Haynes Hillis was the daughter of the noted automobile pioneer and inventor Elwood Haynes. Bud Hillis attended Kokomo Public Schools and graduated from Culver Military Academy in 1944. Upon graduation, he entered the U.S. Army and served in the European Theater during World War II. He rose to the rank of first lieutenant, and was discharged in 1946. He returned to Indiana and enrolled at Indiana University, Bloomington, receiving his B.S. in 1949 and his J.D. in 1952. He was admitted to the Bar and began his law practice in Kokomo.
In 1966, Hillis entered politics, being elected to the Indiana House of Representatives. He served two terms in the Indiana General Assembly, and then in 1970 he was elected to the U.S. House of Representatives for Indiana's 5th Congressional District. Hillis represented the 5th Congressional District for 16 years in Washington, serving from 1971 to 1987. During his time in Washington, he was noted for support of the development of the M1 "Abrams" Tank, and he was the co-founder of the Congressional Auto Task Force. He served for many years on the Veterans Affairs Committee and the Armed Services Committee. He was the first Republican ever endorsed by the Indiana AFL-CIO. In 1986, Hillis decided to retire from Congress, and was not a candidate for reelection. He then returned to Kokomo to resume his law practice.
Bud Hillis was recognized and honored by Indiana University, Kokomo in 2005 at its Scholarship Gala. After he left Congress, he served on the IU Kokomo Advisory Board and in the 1990's he was the outreach chair of the IU Kokomo Library Campaign that raised $2 million of the $12 million project cost. His additional honors from Indiana University include the IU Alumni Distinguished Alumni Service Award in 1982; induction into the Law School's Academy of Law Alumni Fellows in 1996; the IU Kokomo Chancellor's Award for Commitment to Higher Education in 1993 (presented to both Bud and Carol Hillis); and an honorary Doctor of Laws degree through IU Kokomo in 1998. Additionally, Hillis served on the law school Board of Visitors from 1975 until 1978. He and his wife Carol currently reside in Windsor, Colorado.
Keywords
U.S. House of Representatives, Kokomo, Congressman, Indiana Politicians, Indiana Congressional Representatives, Indiana Fifth Congressional District, Maurer Alumni, Academy of Law Alumni Fellows
Disciplines
American Politics | Law | Legal Biography | Legal Profession
Recommended Citation
"Elwood Haynes Hillis" (1926). Maurer Notable Alumni. 29.
https://www.repository.law.indiana.edu/notablealumni/29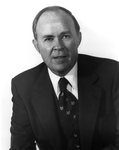 COinS