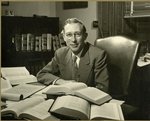 Title
Harold Edward Achor
Description
Harold Edward Achor was born in Coffeeville, Kansas, in 1907. His parents moved to Kosciusko County, Indiana when Harold was an infant. He attended public schools in Atwood and then attended and graduated from Indiana Central College (University of Indianapolis) in 1928. Three years later he graduated from the Indiana University School of Law. After law school Achor and class of 1931 classmate, William L. Peck, formed the Achor & Peck law firm in Anderson, Indiana. He remained in private practice until 1942, when he was elected Madison Superior Court Judge, where he served two terms. He was then elected to the Indiana Appellate Court and served a four-year term. In 1954 he was elected to the Indiana Supreme Court serving until 1966, a few months before his death.
In addition to his legal career, Justice Achor also taught speech and political science at Anderson College from 1932 to 1937. He was also a member of the Board of Governors of the Associated Colleges of Indiana and served on the Board of Trustees of Anderson College.
According to attorney John R. Leal, "Achor was soft-spoken, considerate, charismatic, had a tenacious grasp of the law, and an excellent memory for cases that upheld certain principles of law... He held a strong belief that rules of the Court must be followed in order to obtain jurisdiction and to properly present issues to the Court for deliberation. Many cases failed because the rules were not followed. Achor believed that without strict adherence to rules, there could be no orderly administration of justice and that ruled exist for the conduct and reliance by society in all walks of life."
Achor is buried at the Maplewood Cemetery in Anderson, Indiana.
Keywords
Indiana Supreme Court, Indiana Supreme Court Justices, Madison Superior Court, Indiana Appellate Court, Maurer Alumni
Disciplines
Judges | Law | Legal Biography | Legal Profession
Recommended Citation
"Harold Edward Achor" (1907). Maurer Notable Alumni. 33.
https://www.repository.law.indiana.edu/notablealumni/33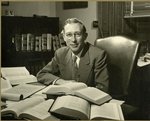 COinS