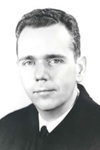 Title
Frederick Eugene Rakestraw
Description
Frederick Eugene Rakestraw was born in Lima, Ohio, on August 29, 1923. He attended public schools in Lima and was on the Ohio state championship debate team in high school. He attended Manchester College for two years before being called for military duty. Returning home from the war in 1946 he completed his undergraduate studies in Indiana University (B.A. 1947) and then received his law degree from Indiana in 1949. He then entered into private practice in Akron, where he joined a firm operated by William Deniston (IU Law, 1937).
In 1954 Rakestraw was elected Circuit Court Judge in Fulton County, the first Democrat elected to any position in that county in eighteen years. He was reelected in in 1960 and served in the position until 1965. In 1965, when Justice Frederick Landis Jr. resigned from the Indiana Supreme Court, Rakestraw was appointed to fill out his term. Although he served on the court for only 360 days (he lost the election in 1966), he served six of his twelve months on the court as Chief Justice, due to the regular rotation of that office.
At the age of 43, Rakestraw returned to private practice, joining into partnership with Albert and Eugene Chipman in Rochester, Indiana, and later a firm with Jesse and Lawrence Brown. In 1999 he was the recipient of the Indiana State Bar Association's Golden Career Award. He died in 2004 and is buried at the Rochester I.O.O.F. Cemetery. The Fulton County Community Foundation annually gives scholarships in his name to students attending law school.
Keywords
Indiana Supreme Court, Indiana Supreme Court Justices, Maurer Alumni
Disciplines
Judges | Law | Legal Biography | Legal Profession
Recommended Citation
"Frederick Eugene Rakestraw" (1923). Maurer Notable Alumni. 36.
https://www.repository.law.indiana.edu/notablealumni/36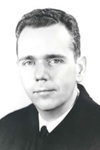 COinS