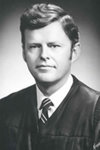 Title
Roger Owen DeBruler
Description
Roger Owen DeBruler was born (1934) and raised in Evansville, Indiana. He served as a military intelligence officer in Germany and earned both his undergraduate (A.B., 1958) and his J.D. (1960) from Indiana University in Bloomington. After law school DeBruler served as Deputy City Prosecutor of Indianapolis from 1960 to 1963. In 1963 Governor Matthew Welsh appointed DeBruler to fill a vacancy on the Circuit Court of Steuben County. Judge DeBruler then successfully stood for reelection in 1964.
In 1968 Governor Roger Branigin appointed him to the Indiana Supreme Court to fill the vacancy that was created by the death of Donald Mote. At the time, DeBruler was just 34 years old. In 1970 DeBruler ran for election and won his first six year term on the bench.
During his twenty-eight year tenure on the bench, a tenure that was longer than any other justice in the twentieth century, DeBruler wrote nearly nine hundred majority opinions and six hundred dissents. Fellow Supreme Court Justice Frank Sullivan, Jr., has called DeBruler "an unfailingly courteous and kind man," while Chief Justice Randall Shepard described his ability to analyze cases "with a cordiality and a care for detail that made working with him both delightful and instructive."
DeBruler retired on August 8th of 1996. He died in 2017.
Keywords
Indiana Supreme Court, Indiana Supreme Court Justices, Maurer Alumni
Disciplines
Judges | Law | Legal Biography | Legal Profession
Files
Download Eulogy, delivered by Frank Sullivan, Jr., 2/21/17. (47 KB)
Recommended Citation
"Roger Owen DeBruler" (1934). Maurer Notable Alumni. 37.
https://www.repository.law.indiana.edu/notablealumni/37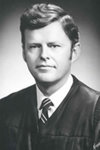 COinS