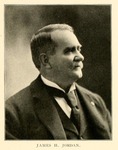 Description
James Henry Jordan was born in 1842 in Woodstock, Virginia. When he was 10 years old, his family moved to Corydon, Indiana. When the Civil War broke out, he enlisted and served in the Third Indiana Cavalry. The Third Indiana served in the Army of the Potomac, thus Jordan participated in all the major battles in the Eastern Theater. He was wounded at Gettysburg in July 1863, and severely wounded two months later at the Battle of Culpeper Court.
With the conclusion of the war, Jordan returned to Indiana and began his studies at Wabash College, later transferring to Indiana University in Bloomington where he graduated in 1868. He returned to Corydon and began to read law under a local judge and another lawyer. He then returned to Bloomington to formally study law, earning his law degree in 1871. He then practiced law briefly in Missouri before moving to Martinsville, Morgan County, Indiana. He established his law practice in Martinsville, eventually serving as prosecuting attorney and city attorney. In 1882 he sought election to circuit judge, and in 1888 to the Indiana Supreme Court, but he lost both times. In 1894 he was elected to the Indiana Supreme Court, where he would serve for the next 17 years, being reelected in both 1900 and 1906.
Justice Jordan wrote 652 opinions during his 17 years on the Indiana Supreme Court. Two opinions stand out. In 1911 he wrote the opinion in Ex parte France (176 Ind. 72), a case seeking to decide if a 1911 statute stripping the Court of some measure of its ultimate authority was constitutional. Jordan wrote the opinion for the majority (in a 3 to 2 decision) that the statute was unconstitutional, stating that "the Supreme Court of this State is, in the full sense of that word, supreme over the other two departments of state government."
His other significant opinion was his dissent in In re Denny (156 Ind. 105) in 1901. The issue in Denny was how to amend the state constitution, concerning how to define the term "elector." The definition decided by the Court made it almost impossible to amend the Indiana State Constitution. Jordan wrote a 40 page dissent in the case. In 1935, the Indiana Supreme Court reversed the decision in Denny, stating that it had "no hesitancy to re-examine this question", due to Jordan's dissenting opinion.
Justice Jordan died in office on April 10, 1912. He was interred at the New South Park Cemetery in Martinsville.
Keywords
Indiana Supreme Court, Indiana Supreme Court Justices, Maurer Alumni, Civil War Veterans
Disciplines
Courts | Judges | Law | Legal Biography | Legal Profession
Recommended Citation
"James Henry Jordan" (1842). Maurer Notable Alumni. 39.
https://www.repository.law.indiana.edu/notablealumni/39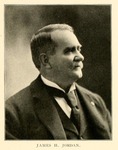 COinS