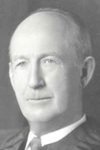 Description
James P. Hughes was born on December 18, 1874 in Vigo County, Indiana. His family subsequently moved to Putnam County, which would be his home for the rest of his life. He attended the Putnam County public schools, and then he earned his undergraduate degree from DePauw in 1898. He then attended the Indiana University law school, receiving his degree in 1900. He was admitted to the bar and began his legal practice that same year. In 1902 he was appointed deputy prosecuting attorney for the Clay-Putnam Circuit Courts, and in 1904 he was promoted to prosecuting attorney. In 1911 Governor Thomas Marshall appointed Hughes to the Putnam County Circuit Court. He was elected four times to this position, serving on the bench for more than 20 years.
In 1933, Justice Hughes joined the Indiana Supreme Court, where he would serve for one term. His opinions were filled with history and literature, highlighting his unique knowledge of both topics. In 1937, his opinion in Carroll Perfumers v. State received national attention because of his references to the Bible (Exodus 30:25), English laws during Henry VIII, and act 1, scene 5 from Shakespeare's Romeo and Juliet.
Justice Hughes wanted to serve another term on the Court, but a split in the Democratic Party led him to decline to be placed in nomination. After leaving the Court, Hughes served in the Indiana Attorney General's office until 1941, whereupon he returned to private practice in Greencastle. In 1945 President Harry Truman appointed Hughes to the Federal Railroad Labor Panel, mediating labor and wage disputes with railroads across the country.
Justice Hughes eventually retired from his law practice and was content to spend his time farming his Putnam County farm. He died there on August 30, 1961 and was buried in the Forest Hills Cemetery in Greencastle, Indiana.
Keywords
Indiana Supreme Court, Indiana Supreme Court Justices, Putnam County Circuit Court, Maurer Alumni
Disciplines
Judges | Law | Legal Biography | Legal Profession
Recommended Citation
"James Peter Hughes" (1874). Maurer Notable Alumni. 43.
https://www.repository.law.indiana.edu/notablealumni/43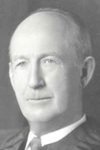 COinS