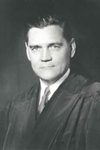 Title
Curtis Grover Shake
Description
Curtis G. Shake was born on July 14, 1887 in Monroe City, Knox County, Indiana. In 1905 he earned his teaching license from attending Vincennes University. He taught school for 2 years, and then entered law school at Indiana University in Bloomington. He graduated in 1910 and returned to Knox County, choosing to set up his practice in the town of Bicknell. In 1916 he moved to the county seat of Vincennes. In 1926 he was elected state senator for Knox and Daviess counties, and then in 1928 he was the Democratic nominee for Indiana attorney general. The Republicans swept the election that year, and Shake returned to his law practice in Vincennes.
In 1937, President Roosevelt appointed Indiana Supreme Court justice Walter Treanor to the U.S. Court of Appeals for the Seventh Circuit, opening up a spot on the Indiana Supreme Court. Governor Clifford Townsend appointed Shake to fill out the remainder of Justice Treanor's term. Justice Shake was elected in his own right in 1938, and would serve on the Supreme Court until 1945. He was chief justice three times, and he also became nationally known for his work mediating labor disputes. His most significant opinion from the bench was in Warren v. Indiana Telephone Company which firmly established that the Supreme Court was the court of last resort in Indiana, and the Indiana Court of Appeals was subservient to the Supreme Court.
Justice Shake retired from the Court in 1945 and returned to his law practice in Vincennes. In 1947 he was appointed to the war crimes trials in Nuremburg, Germany. This led him to serving as the presiding judge in the I.G. Farben case. He later revealed his mixed feelings about the Nuremberg tribunals.
In 1948 Justice Shake returned to Vincennes where he practiced law until his retirement in 1973 at the age of 86. He died on September 11, 1978 at the age of 91, and he was interred at the Memorial Park Cemetery in Vincennes.
Keywords
Indiana Supreme Court, Indiana Supreme Court Justices, Knox County attorneys, Maurer Alumni
Disciplines
Judges | Law | Legal Biography | Legal Profession
Recommended Citation
"Curtis Grover Shake" (1887). Maurer Notable Alumni. 44.
https://www.repository.law.indiana.edu/notablealumni/44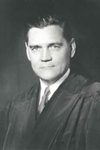 COinS