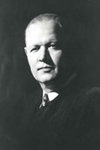 Description
Paul G. Jasper was born on December 15, 1908 in Fort Wayne, Allen County, Indiana. He was educated in the Allen County schools, and then he entered Indiana University at Bloomington. At IU he lettered in both football and basketball, he was president of the senior class, and he was president of the Board of Aeons. He graduated with his law degree in 1932 and he returned to Fort Wayne to practice law. When the United States entered World War II, he enlisted in the Army and served with the Ninety-eighth Infantry in the Central Pacific, rising to the rank of major. When the war ended, he returned to Fort Wayne to resume his law practice and political career. In 1948 he was nominated by the Democratic Party for the Indiana Supreme Court, and he was elected by a solid majority.
Justice Jasper was just 40 years old when he joined the Court, the youngest individual to sit on the Court in nearly 50 years. The case load was heavy and Justice Jasper wrote 78 opinions during his four years on the Court. He also was appointed six separate times by President Harry Truman to the President's Emergency Board to help with railroad labor disputes.
Justice Jasper resigned from the Court on March 23, 1953 to become the assistant general counsel for Public Service Company of Indiana, and then in 1974 he joined the Indiana Electric Association. He remained active in his association with Indiana University for the rest of his life. He was a lifetime member of the Alumni Association and served as its president in 1960. The Alumni Association awarded him the Distinguished Alumni Service Award in 1970. He also belonged to the I-Men's Club, the Woodburn Guild, and the Varsity Club. He also served the Law School as a class agent and Moot Court judge. For sixteen years he was on the Indiana State Police Board, and remained active in the bar associations for Marion and Allen counties, Indiana, and the American Bar Association.
Justice Jasper died on October 23, 2001, just a few weeks before he was to be formally inducted into the Law School's Academy of Law Alumni Fellows. He was interred at Lindenwood Cemetery in Fort Wayne.
Keywords
Indiana Supreme Court, Indiana Supreme Court Justices, Allen County, Maurer Alumni, Academy of Law Alumni Fellows
Disciplines
Judges | Law | Legal Biography | Legal Profession
Recommended Citation
"Paul George Jasper" (1908). Maurer Notable Alumni. 46.
https://www.repository.law.indiana.edu/notablealumni/46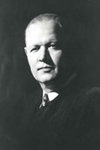 COinS