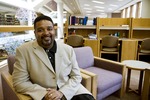 Title
Rapheal Moses Prevot, Jr.
Description
Rapheal Moses Prevot, Jr., was born in Indianapolis, Indiana, on November 22, 1958. After graduating from Arsenal Tech High School (1977), he attended Indiana University where he received his B.S. degree in 1981. He then attended the Indiana University School of Law, receiving his J.D. degree in 1984. After law school, Prevot spent five years working for the Florida State Attorney General's office, before briefly practicing as a litigation attorney with the Florida law firm Adorno & Zeder.
Prevot moved to New York City in 1993, when the National Football League hired him for the position of NFL Labor Relations Counsel. At the NFL, he was responsible for representing teams in labor disputes and negotiating/implementing the collective bargaining agreement between the NFL Management Council and the NFL Player's Association.
Prevot was a dedicated member of the National Bar Association and was inducted into the Entertainment, Sports and Art Law section Hall of Fame. Prevot remained a loyal IU supporter while living on the East Coast. He served on both the law school's Alumni Board (1991-2001) and the Board of Visitors (1998-2008). He was the youngest Chair of the Board of Visitors (2007/08) in the school's history. In 2004, he was honored with the school's Distinguished Service Award and in 2011 was posthumously inducted into the Maurer School of Law's Academy of Law Alumni Fellows.
Rapheal Moses Prevot, Jr., died in 2008, at the age of 49. In 2009, the law school's Black Law Student Association's annual Barrister's Ball was renamed in honor of Prevot.
Keywords
Maurer Alumni, Academy of Law Alumni Fellows, National Football League, NFL
Disciplines
Entertainment, Arts, and Sports Law | Law | Legal Biography | Legal Profession
Recommended Citation
"Rapheal Moses Prevot, Jr." (1958). Maurer Notable Alumni. 61.
https://www.repository.law.indiana.edu/notablealumni/61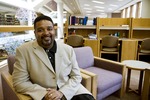 COinS