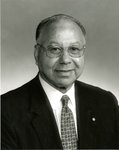 Title
William Rufus Stewart
Description
William Rufus Stewart was born in Terre Haute, Indiana, on May 21, 1932. After high school, he enrolled at Indiana University, working his way through college as a house assistant to legendary IU President Herman B Wells. Stewart graduated with high honors in political science in 1954 and was elected Phi Beta Kappa. With a letter of recommendation from Wells, Stewart entered the Indiana University School of Law in the fall of 1954. He was called to active duty in 1955 and rose to the rank of first lieutenant. He returned to the law school in 1957, served as an associate editor and then note editor of the Indiana Law Journal, before receiving his J.D. in 1959 (Order of the Coif).
After law school, Stewart started out as an attorney with the Atomic Energy Commission (1959-1963). He then joined the National Labor Relations Board as a legal assistant on the Chairman's staff. In 1967, he was selected to be President of the Board's professional association. In 1969, he began working for the Board's Appellate Court Branch and in 1978 was promoted to Deputy Assistant General Counsel. Stewart was appointed Chief Counsel in 1994, the first African-American to hold the position.
Upon his retirement in 1997, President Clinton presented Stewart with the President's Award for Distinguished Federal Service, the highest honor the federal government can give a career civil servant. Stewart is the only NLRB employee to ever receive the award. At the time, Clinton noted, "America's tradition of hard work has made our country strong, and you can be proud of your contribution to that legacy. Your dedication to the public is an inspiration to others. Indeed, your commitment to excellence at the Board is unparalleled."
William R. Stewart was inducted into the Indiana University School of Law Academy of Law Alumni Fellows in 1999. Upon hearing the news of his induction, his old boss Herman Wells remarked, "Bill Stewart is an outstanding example of the fine caliber of our undergraduates and their unsurpassed dedication to excellence in both their professional and private lives. It was my privilege to have Bill as a member of my household in the early 1950s, and it is an even greater privilege to acknowledge his lifelong career on behalf of our great country. His induction into the Academy of Law Alumni Fellows is one more well-deserved recognition of his illustrious service in the legal profession."
William Rufus Stewart died on February 16, 2004 at the age of 71. In 2006, the Law School established an annual William R. Stewart Lecture on Labor and Employment Law.
Keywords
Maurer Alumni, National Board of Labor Relations, Academy of Law Alumni Fellows
Disciplines
Administrative Law | Labor and Employment Law | Legal Biography | Legal Profession
Recommended Citation
"William Rufus Stewart" (1932). Maurer Notable Alumni. 63.
https://www.repository.law.indiana.edu/notablealumni/63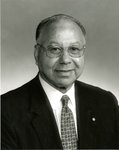 COinS