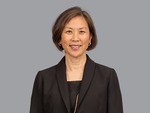 Description
Sara Yang Bosco was born in South Bend, Indiana, to immigrant parents from China. After graduating from John Adams High School she enrolled at the University of Notre Dame, in her hometown. She graduated with a B.A., in American Studies, in 1980. She then enrolled at the Indiana University School of Law and received her J.D. in 1983. After law school, she and her husband moved to New York City, where he was attending graduate school at Columbia University. A year later, they found themselves in Taiwan where he was conducting anthropological fieldwork for his Ph.D. A small law firm that dealt in government contracts hired Bosco. They needed an English-speaking attorney to negotiate contracts with an international emphasis. After a brief return to the States, her husband took a job in Hong Kong in 1992.
In Hong Kong, Bosco was hired by the local Baker & McKenzie office, where she developed a working relationship with one of their major clients – a St. Louis manufacturing and technology company called Emerson. After 10 years with Baker & McKenzie, Bosco and some colleagues left to set up a Hong Kong office for Perkins Cole. Emerson accompanied her to the new firm. So impressed were the Emerson executives, of her abilities, that they offered her a job as their Asia General Counsel, multiple times. Finally, in 2005 she accepted the offer. In the position, she was responsible for overseeing the company's legal affairs in the region as well as providing legal counsel on a wide range of matters. Three years later, she was named President of Emerson AsiaPacific, the first woman to hold the position.
In April of 2016, Sara Yang Bosco was named Vice President, Secretary and General Counsel for the entire Emerson Corporation. In 2014, Sara Yang Bosco was inducted into the Indiana University Maurer School of Law Academy of Law Alumni Fellows.
Keywords
Maurer Alumni, Emerson, Academy of Law Alumni Fellows
Disciplines
Law | Legal Biography | Legal Profession
Recommended Citation
"Sara Yang Bosco" (1958). Maurer Notable Alumni. 65.
https://www.repository.law.indiana.edu/notablealumni/65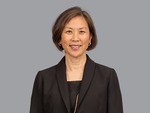 COinS