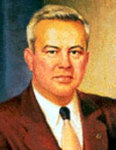 Description
George North Craig was born on August 9, 1909 in Brazil, Clay County, Indiana. He graduated from Brazil High School in 1927, and he then enrolled at the University of Arizona. After two years in Arizona, he returned to Indiana and decided to follow his father into the practice of law. After an interview with the Indiana University School of Law Dean (and future Indiana governor) Paul V. McNutt, Craig was admitted to the Law School. He graduated in 1932 and returned to Clay County to practice law with his father. He developed his law practice and gradually began his involvement with local and state politics.
In 1942, Craig was commissioned as a first lieutenant in the United States Army. He participated in the Normandy invasion and saw continued military action in France and Germany through to the conclusion of the war. He was discharged in 1946 with the rank of lieutenant colonel. He then returned to Clay County to resume his law practice, and he became involved in the American Legion. In 1949 he was elected National Commander of the Legion, having been nominated by Paul McNutt.
In 1952 Craig was nominated by the Republican Party for Governor of Indiana. He was easily elected, but he faced a divided Republican Party in the Indiana General Assembly. A number of his initiatives were not enacted, but he was successful in creating a Department of Corrections, a Uniform Traffic Code, a Mental Health Division, and improving and expanding the state highway system and mental health programs. His record received national attention, including a cover story in Time magazine in 1955 where he was described as "a swift-footed, swashbuckling, lawyer-politician" and an "administrator by instinct."
After leaving office in 1957 he moved to Virginia to practice law and his business interests. He moved to Los Angeles in 1965, and in 1967 he returned to Clay County where he continued to practice law and serve on the State Board of Law Examiners.
George Craig died in Indianapolis on December 17, 1992. He was interred at Clearview Cemetery in Clay County. In 2003 he was inducted into the Law School's Academy of Law Alumni Fellows.
Keywords
Indiana Governors, Indiana Politicians, Maurer Alumni, Academy of Law Alumni Fellows
Disciplines
American Politics | Law | Legal Biography | Legal Profession
Recommended Citation
"George North Craig" (1909). Maurer Notable Alumni. 7.
https://www.repository.law.indiana.edu/notablealumni/7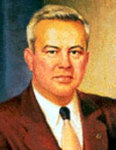 COinS