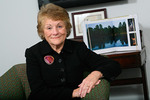 Title
Ann McGovern DeLaney
Description
Ann McGovern DeLaney was born in Brooklyn, New York. She graduated (1963) from Berner High School in Massapequa (Long Island), New York, and then attended Harpur College (Binghamton University) where she received her B.A. in 1967. That same year she married another Harpur graduate, Ed DeLaney and soon the couple had a growing family. By 1970, the DeLaneys were in the Boston area where Ed was attending Harvard Law School and Ann worked as an office manager for the school's Prison Legal Assistance Project. Over the next few years, she also worked as a secretary for the Assistant Dean of Clinical Programs, as well as a law librarian for a Boston law firm. In 1973, the family moved to Indiana, when Ed DeLaney accepted a job with the firm of Barnes & Thornburg.
Ann DeLaney applied and was accepted to the Indian University School of Law in 1974. She received her J. D. degree in 1977 and began her law career in the Marion County prosecutor's office as a Deputy Prosecutor. She supervised the Felony Sex Offense and Child Abuse Unit from 1977 to 1982. In 1984, DeLaney became the first woman in Indiana to run for the position of Lieutenant Governor. Although she and her running mate lost the race, her name was touted as a rising political star. In 1988, Governor Evan Bayh tapped her to be his Executive Assistant for Legislative Affairs and later his reelection campaign manager. In 1993 DeLaney became the first woman in Indiana to lead a political party when she became the Chair of the Indiana Democratic Party. From 1996 until 2011 she was the Executive Director of the Julian Center, a not-for-profit organization serving victims of domestic violence and sexual assault in Indianapolis. In 2001, President Bill Clinton appointed DeLaney to serve as a Standing Trustee for Chapter 13 Bankruptcy in the U.S. Bankruptcy Court for the Southern District of Indiana. In 2002 she and her daughter, also a graduate of Maurer Law (1995) founded the firm of DeLaney & DeLaney. In addition to all this, DeLaney has been a long running regular guest on the Indianapolis public affairs television show, Indiana Week in Review.
DeLaney has served on the Indiana University Maurer School of Law's Board of Visitors (1998- ), as well as the school's Capital Campaign committee. Ann McGovern DeLaney was inducted into the Indiana University Maurer School of Law Academy of Law Alumni Fellows in 2001.
Keywords
Maurer Alumni, Indiana Politics, Academy of Law Alumni Fellows
Disciplines
Law | Law and Politics | Legal Biography | Legal Profession
Recommended Citation
"Ann McGovern DeLaney" (1946). Maurer Notable Alumni. 70.
https://www.repository.law.indiana.edu/notablealumni/70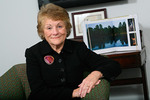 COinS