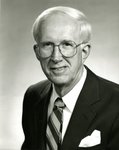 Title
Ellis Bernard Anderson
Description
Ellis Bernard Anderson was born in Michigan City, Indiana, on August 30, 1926. Anderson attended Isaac C. Elston Senior High School in Michigan City, before attended Indiana State Teachers College (Indiana State University). From 1944-46 he was in the military serving in the Pacific. Anderson returned to Indiana after his military service and enrolled at Indiana University, receiving his B.A. degree in 1949. He then enrolled at the I.U. School of Law, where he received his J. D. degree in 1952. While in law school Anderson was a member of the editorial board of the Indiana Law Journal (v.27, 1951/52) and was a member of the first moot court team to compete in national competitions.
After graduation, Anderson joined the Evansville law firm that would become Butt Bower & Anderson. Anderson also served as the City of Evansville Corporation Council and the City Controller. Anderson served as Campaign Manager for Vance Hartke's first U. S. Senate race in 1958, and became a staff member of the Senate's Special Committee on Chronic Unemployment Problems (1959-1960)
In 1961, Anderson accepted a position as General Counsel for Baxter Laboratories in the Chicago area. In 1965, he became the General Counsel for the pharmaceutical firm of Hoffmann-La Roche, Inc., in New Jersey. He remained with the company for the rest of his career, rising to Senior Vice-president for Law, Taxes, Human Resources, Corporate Licensing and Development, and Risk Management. Anderson served on the company's board of directors and was Chair of its fiduciary review committee. He retired in 1989.
Ellis Bernard Anderson was inducted into the Indiana University School of Law Academy of Law Alumni Fellows in 1990. Anderson died in November of 2020, at the age of 94.
Keywords
Maurer Alumni, Academy of Law Alumni Fellows
Disciplines
Food and Drug Law | Law | Legal Biography
Recommended Citation
"Ellis Bernard Anderson" (1926). Maurer Notable Alumni. 71.
https://www.repository.law.indiana.edu/notablealumni/71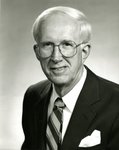 COinS