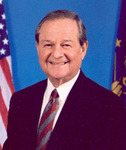 Title
Frank Lewis O'Bannon
Description
Frank Lewis O'Bannon was born on January 30, 1930 in Louisville, Kentucky. His family lived in Corydon, Harrison County, the site of Indiana's first capital. O'Bannon graduated from Corydon Central High School in 1948, and then enrolled at Indiana University. He graduated in 1952 with a degree in government, and then served for two years in the United States Air Force. After his military service, he returned to Indiana and enrolled at the Indiana University, Bloomington School of Law. He received his J.D. in 1957, and then he returned to Corydon to begin his law practice and work in the family business, publishing the Corydon Democrat newspaper.
The O'Bannon family was steeped in politics. His grandfather Lewis O'Bannon served as county surveyor and county recorder, and then was the Democratic nominee for lieutenant governor in 1924. His father Robert O'Bannon was elected to the Indiana State Senate in 1942 and served for 28 years, becoming one of the most respected members of the Senate. In 1970, Frank O'Bannon was elected to take his father's place in the Indiana State Senate, serving for 18 years. He quickly rose in the ranks of the leadership for the Democrats in the Senate, serving as minority floor leader from 1979 to 1988. In 1988 he announced that he was a candidate for the Democratic Party's nomination for Governor of Indiana, but then he stepped aside for Secretary of State Evan Bayh. Bayh selected O'Bannon to run as his lieutenant governor, and the Bayh/O'Bannon team was elected in November, 1988. They were reelected in 1992 by an overwhelming margin. In 1996, O'Bannon was the obvious choice for the Democrats for Governor, and he was unopposed for the nomination. O'Bannon defeated Indianapolis mayor Stephen Goldsmith in the 1996 election, and then he was reelected comfortably in 2000.
O'Bannon's political career was one marked by contrasts of supporting views that were both conservative and liberal. O'Bannon was strongly supportive of law-and-order (including the death penalty), while also supporting environmental protection laws and increased spending on education. State finances suffered in the post-September 11th recession, which complicated his vision for Indiana.
Frank O'Bannon suffered a massive stroke on September 8, 2003 while attending an international trade conference in Chicago. He died five days later without having regained consciousness. After his organs were donated, he was cremated and his remains were interred in the family plot at Cedar Hill Cemetery in Corydon.
Frank O'Bannon was inducted into the Law School's Academy of Law Alumni Fellows in 1998.
Keywords
Indiana Governors, Indiana Lieutenant Governors, Indiana Politicians, Maurer Alumni, Academy of Law Alumni Fellows
Disciplines
American Politics | Law | Legal Biography | Legal Profession
Recommended Citation
"Frank Lewis O'Bannon" (1930). Maurer Notable Alumni. 8.
https://www.repository.law.indiana.edu/notablealumni/8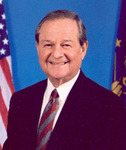 COinS