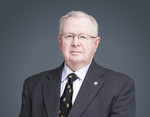 Title
Joseph Theodore Bumbleburg
Description
Joseph Theodore Bumbleburg was born in Lafayette, Indiana. After graduating from Jefferson High School in 1954, he enrolled at the University of Notre Dame where he received his B.A. in Economics, Cum Laude, in 1958. Bumblegurg then enrolled at the Indiana University School of Law, receiving his law degree in 1961. Upon graduating from law school, Bumblegurg was commissioned a First Lieutenant in the U.S. Army Reserve. He served in the Judge Advocate General's Corps until 1964. Upon leaving the service, he joined the Lafayette firm of Ball Eggleston and has spent his entire career providing quality legal service to his hometown community. Bumblegurg started out in trial defense work for local insurance companies, but eventually focused on real estate development, municipal law, zoning and subdivision law. He also has had extensive civil trial, estate planning, and government affairs experience.
Bumblegurg has always been very involved in the Tippecanoe County community. In particular, he has been involved with the local Red Cross, in a variety of positions, since he was 15 years old. This culminated with his receiving (1992) the Harriman Award for Distinguished Volunteer Services, the highest award the American Red Cross gives for volunteer service. He has also been very involved with the American Legion in Tippecanoe County, served on the board of directors of the United Way, the Lafayette Police Civil Service Commission and as Secretary for the Tippecanoe County Sheriff's Merit Board. In addition, he has been an active supporter of Indiana Vocational and Technical College (Ivy Tech) and is a past member of the the school's Board of Trustees.
Joseph Theodore Bumbleburg was inducted into the Indiana University School of Law Academy of Law Alumni Fellows in 2002.
Keywords
Maurer Alumni, Ball Eggleston, Academy of Law Alumni Fellows
Disciplines
Law | Legal Biography | Legal Profession | Property Law and Real Estate
Recommended Citation
"Joseph Theodore Bumbleburg" (1937). Maurer Notable Alumni. 86.
https://www.repository.law.indiana.edu/notablealumni/86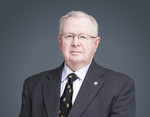 COinS