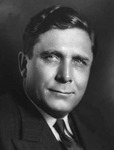 Title
Wendell Lewis Willkie
Description
Only the elders of this generation can personally recall the passion aroused by the presidential election of 1940, but the story of Wendell Lewis Willkie (1892-1944), electrifies us more than seventy-five years later. He was invisible in winter, only a faint star in spring, then, in the summer of 1940, he became a blazing comet, exploding in the Republican Convention and firing his party into a frenzied campaign that came close to victory over incumbent Franklin D. Roosevelt. The Willkie story continued after election defeat with this titular party leader accepting the wartime leadership of his victorious opponent, then striving to unify the Homefront and, finally, presenting to the warring allies the haunting dream of One World.
The story began in 1892 when Willkie was born into an exciting and stimulating family in Ellwood, Indiana. His parents practiced law together; his grandmother was a physician; an aunt was a preacher. Young Willkie joined his brothers and a sister at a rooming house in Bloomington and became known as a campus radical and disputatious student. After graduation and a short stint as a teacher and roustabout, he returned to Indiana University School of Law, was graduated in 1916 and joined his father in Elwood to begin practice.
After army service, Willkie left Elwood for a position with Firestone Rubber Company in Akron, Ohio. He then became a partner in a leading law firm in Akron. By 1929 he had gained credit for having transformed his client, Ohio Edison, into a "reformed utility." Wall Street beckoned, and he became general counsel for Commonwealth and Southern, a sprawling utility holding company. The depression brought near bankruptcy to his employer, but to Willkie it was a call to assume its presidency. He turned the company to profitability, gaining a name as a resourceful manager. In his most noted struggle, he was pitted against the federal government and the Tennessee Valley Authority. A war it was, and Willkie won. He got his price for the Tennessee Power Company and became a favorite of executives drawn into conflict with the New Deal.
He founded the still eminent law firm of Willkie, Farr and Gallagher and, in periodicals and from the podium, became the spokesman for the embattled businessman. In this way he was drawn inexorably to his rendezvous with the nation's destiny in 1940.
Wendell Willkie died in 1944 at the height of his powers. He left his family his Hoosier heritage. He left a nation bemused by his dazzling career. He left guidance in the continuing duel between private enterprise and public welfare. He left a dream of a world where nations submerge their parochial passions for peace and cooperation.
Wendell Willkie was installed in the Indiana University School of Law Academy of Law Alumni Fellows in 1988.
Keywords
Indiana Politicians, Presidential Candidates, Maurer Alumni, Academy of Law Alumni Fellows
Recommended Citation
"Wendell Lewis Willkie" (1892). Maurer Notable Alumni. 9.
https://www.repository.law.indiana.edu/notablealumni/9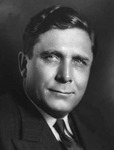 COinS