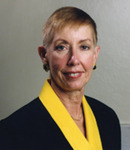 Title
Vivian Sue (Blodgett) Shields
Description
Vivian Sue (Blodgett) Shields was born in the small central Kentucky town of Wilmore. She grew up in the Wanamaker/New Palestine area of central Indiana, and graduated from New Palestine High School in 1955. After high school, Shields attended Ball State Teachers Colleges (Ball State University) in Muncie, Indiana. She graduated with a B.A. degree in 1959 and enrolled at the Indiana University School of Law. Shields, the only woman in her class, received her L.L.B., Order of the Coif, in 1961.
After spending a year as a attorney and regional counsel for the Internal Revenue Service in Ohio, Shields became the Deputy Attorney General for the state of Indiana. Prompted by the political uncertainty of reelection for her boss, she decided to run, at the age of 24, for judge of the Hamilton County Superior Court in 1964. She won the election (the first woman to ever be elected a Indiana general jurisdiction judge) and served until 1978 when she was appointed to the Indiana Court of Appeals (the first woman to ever serve on the Appeals Court). She remained on the court until 1994, when she was selected to serve as U.S. Magistrate for the Southern District of Indiana (the first woman to ever serve as a magistrate judge in the district courts of Indiana). She retired in 2007.
Additionally, Shields served on the Indianapolis Bar Association's commission on Marion County Courts, has been secretary and director of the Indiana Lawyers Commissions section on sentencing appeals, and has served on various committees of the Hamilton County Bar Association. Shields received the Indianapolis Bar Associations' first Antoinette Dakin Leach Award (1990) and its Buchanan Award for Excellence. Shields served on the Law School's Board of Visitors twice, 1976-1988 and 1994-1996, and chaired the Board in 1994/95. V. Sue Shields was inducted into the Indiana University School of Law Academy of Law Alumni Fellows in 1994.
Keywords
Maurer Alumni, V. Sue Shields, Indiana Judges, U.S. Magistrate for the Southern District of Indiana, Indiana Court of Appeals, Hamilton Superior Courts, Academy of Law Alumni Fellows
Disciplines
Judges | Law | Legal Biography | Legal Profession
Files
Download "Mr. & Mrs. William E. Shields," Noblesville Ledger, 10/27/1963 (347 KB)
Download "Election Could Give State Its Only Woman Judge," (unknown newspaper), April 1964 (7.6 MB)
Download "Woman Judge Mixes Careers," Indianapolis Star, April 1970 (11.4 MB)
Download "Woman Wields Gavel In Superior Court," Bloomington Herald Telephone, 11/25/1972 (11.3 MB)
Download "Youthful In Field," Indianapolis News, 6-27-1963 (5.5 MB)
Download "Leaving a Legacy," Ball State Alumnus, 1/2007 (1.8 MB)
Recommended Citation
"Vivian Sue (Blodgett) Shields" (1939). Maurer Notable Alumni. 93.
https://www.repository.law.indiana.edu/notablealumni/93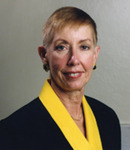 COinS