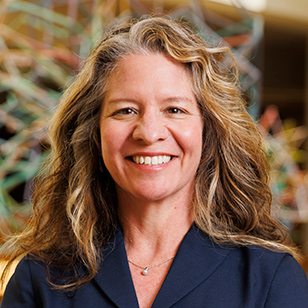 Document Type
Writing about Dean Christiana Ochoa
Publication Date
11-9-2022
Publication Citation
The Indiana Lawyer
Abstract
Displayed throughout Christiana Ochoa's office are sentimental photos and items she's collected from across the globe, but the most eye-catching print is propped behind her desk.
The new Indiana University Maurer School of Law dean has a red, blue and beige poster prominently displayed in her headquarters, depicting a Latina woman with a Mona Lisa-esque smile and a rose in her hair with the words, "WE THE PEOPLE — DEFEND DIGNITY," typed across the bottom.
"To me, it's a great piece of art with a Latino woman who clearly is confident, and confident in her belief that we are a vital part of this country and that it is important to uphold the principles of democracy and the rule of law," Ochoa said.
Last month, the law school announced Ochoa, 52, who has worked at IU Maurer for around two decades in various teaching, administrative and leadership roles, as the 17th dean in the law school's history.
Recommended Citation
Morey, Jordan, "'I really love this law school': Q&A with new IU Maurer dean Ochoa" (2022). Christiana Ochoa (7/22-10/22 Acting; 11/2022-). 4.
https://www.repository.law.indiana.edu/ochoa/4