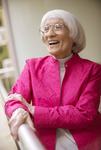 Interview with Bernice Sandler
Abstract
Project on the Status and Education of Women
Interviewed by Julia Lamber and Jean Robinson on June 28-29, 2004, in Washington, D.C.
Bernice Resnick Sandler (March 3, 1928 – January 5, 2019) was an American women's rights activist born in New York. Sandler is best known for being instrumental in the creation of Title IX, a portion of the Education Amendments of 1972, in conjunction with Representatives Edith Green (D-OR) and Patsy Mink (D-HI) and Senator Birch Bayh (D-IN) in the 1970s. She has been called "the Godmother of Title IX" by The New York Times. Continued on Wikipedia
This paper has been withdrawn.