Preview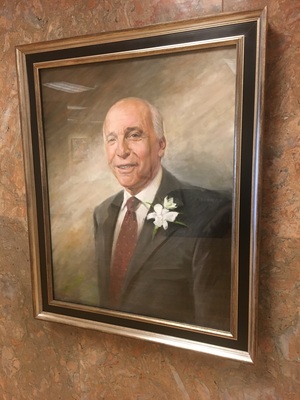 Description
Portrait of Michael S. (Mickey) Maurer.
Artist: Todd Carignan
Date: 2018
Plaque reads:
In 2008, the Indiana University School of Law - Bloomington was renamed in honor of a $35 million gift from Michael S. (Mickey) Maurer and his wife, Janie. Maurer is an attorney and entrepreneur whose ventures include cable television, film production, radio broadcasting, newspaper publishing, government service, and banking.
Maurer serves as charman of the board of IBJ Corp., which owns and publishes the Indianapolis Business Journal, Court and Commercial Record, and The Indiana Lawyer. He also serves as the chairman of the board of directors of The National Bank of Indianapolis, the largest locally owned financial institution in Central Indiana.
An active civic leader, he was named president of the Indiana Economic Development Corp. in 2005, and in 2006 he was named Indiana secretary of commerce by then Governor Mitch Daniels. In 2001 he established Michey's Camp, a charitable endeavor that has raised more than $3 million for Central Indiana charities. He is the author of six books on subjects ranging from underwater photography to entrepreneurship to the legendary 1967 IU Football team, and he is a published contributor to the New York Times crossword puzzle. In 2016,Maurer was awarded an honorary Doctor of Humane Letters degree from Indiana University.
"This gift is special for me because it is an opportunity to say thank you to an institution that made possible the success I have enjoyed in my legal and business career." -- Michael S. Maurer, December 4, 2008.
Location: Maurer School of Law, First Floor, Main Entrance
Learn more about Michael S. Maurer here.