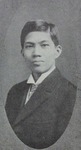 Title
Antonio de las Alas
Description
Antonio de las Alas was born in Taal, Batangas Province, on the Philippine Island of Luzon, on September 12, 1888 (many profiles list his birth as October 14, 1889). After graduating from Batangas High School, he was selected to be one of the 100 Philippine students to participate in the Pensionado program that sent exceptional Philippine students to America to attend a U.S. college. As a result, arived in in Bloomington in the fall of 1905, ultimately receiving his LL.B. from Indiana University School of Law in the spring of 1908.
De las Alas was one of at least seven Pensiondo students to attend the Indiana University Law School. Others include Jorge Cleofas Bocobo (LL.B. 1907), Franciso Afan Delgado (LL.B. 1097), Mariano Honrade de Joya (LL.B. 1907), Proceso Gonzalez Sanchez LL.B. 1908), Pedro V. Sindico, and Jose Valdez.
After receving his LL.B. degree, he attended the Yale University Law School, where he received his LL.M. in 1909. He then returned to the Philippines and worked at the Executive Bureau from 1910 to 1920, rising to Chief of the Bureau. In 1920, he was appointed Undersecretary of the Interior, followed by Acting Secretary of the Interior, and finally Acting Secretary of Justice. In 1922, he was elected to the Philippines Congress and would be re-elected four times. In Congress, he would serve as Chairman of the Appropriations Committee and Speaker Pro-Tempore. In 1933, he was appointed Minister of Public Works and Communications.
When the nation's Commonwealth era begain in 1935, de las Alas served as a member of the Constitutional Convention for the new constitution. In 1936, he was appointed Minister of Finance. In 1941 he was elected to the Senate. During the Japanese occupation of the Philippines, during WWII, de las Alas was a member of the controversial Filipino Executive Commission that worked with the Japanese occupiers. After the war, he was charged with treason and imprisoned. In 1946, he was acquitted and released. Three years later, he was appointed a member of the Monetary Board of the Central Bank of the Philippines (1959-1955). He also served as Chairman of the Philippine Chamber of Commerce (1951-53).
De las Alas served as President of the Philippine Amateur Athletic Federation from 1956 to 1968, was President of the Great Pacific Life Insurance Corp, from 1956 to 1969, was Chairman of the Rizal Development Bank from 1960 to 1963.
Antonio de las Alas was awarded the Outstanding Indiana University Alumnus of the Year award by the Philippine I.U. Alumni Association in 1959. He received the Indiana University Distinguished Alumni Service Award in 1978. He died in Chicago, Illinois, at the age of 94 in 1983.
Keywords
Maurer Alumni, Philippines
Disciplines
Law | Law and Politics | Legal Biography | Legal Profession | Legislation
Files
Download "Outstanding Citizen Awarded Plaque," photo, The Evening News, May 21, 1959 (73 KB)
Recommended Citation
"Antonio de las Alas" (1888). Maurer Notable Alumni. 176.
https://www.repository.law.indiana.edu/notablealumni/176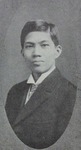 COinS