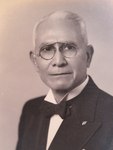 Title
Franciso Afan Delgado
Description
Francisco Afan Delgado was born in the Bulacan Province, of the Philippine Islands, on January 25, 1886. After his early education in the Philippines, Delgado was selected to be one of the 100 Philippine students to participate in the Pensionado program that sent exceptional Philippine students to America to attend a U.S. college.
Delgado is one of at least seven Pensiondo students to attend the Indiana University Law School. Others include Antonio de las Alas (LL.B. 1908), Jorge Cleofas Bocobo (LL.B. 1907), Mariano Honrade de Joya (LL.B. 1907), Proceso Gonzalez Sanchez LL.B. 1908), Jose Valdez, and Pedro V. Sindico.
Before enrolling at Indiana University, Delgado completed his high school education in the Los Angeles area. He then traveled to Bloomington where he received his LL.B. degree from Indiana in 1907 and briefly practiced law with the Indianapolis firm of Chambers, Pikins, Morse and Davidson. In 1909 he received his LL.M. degree from Yale.
After his education in the United States, Delgado returned to the Philippines and worked as a law clerk, ultimately rising to the position of Chief of the Law Division of the Executive Bureau. He left the government in 1913 to set up a private practice. Delgado was elected to the Philippines House of Representatives in 1931 and was appointed Resident Commissioner of the United States from the Commonwealth of the Philippine Islands in 1935. In 1936, he was appointed to the Philippine Court of Appeals.
After WW II, Delgado served as a member of the Philippines War Damages Commission (1946-19510), was elected to the Philippine Senate (1951-1957), and served as Ambassador to the United Nations (1958-1962).
Francisco Afan Delgado died in Manila on October 27, 1964, at the age of 78.
Keywords
Maurer Alumni, Philippines, Philippines Court of Appeals, Resident Commissioner from the Commonwealth of the Philippine Islands
Disciplines
Judges | Law | Legal Biography | Legal Profession
Recommended Citation
"Franciso Afan Delgado" (1886). Maurer Notable Alumni. 188.
https://www.repository.law.indiana.edu/notablealumni/188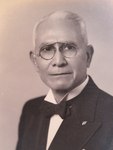 COinS